History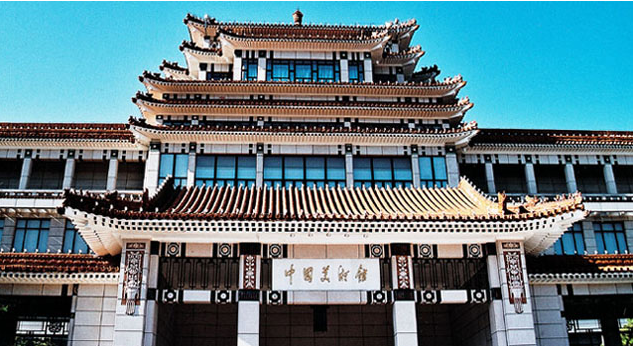 The National Art Museum of China (NAMOC) is the only national art museum of plastic arts in China. Starting to be built in 1958, NAMOC, with its title board inscribed by Chairman Mao Zedong, was formally open to the public in 1963. NAMOC is a national cultural landmark after foundation of the People's Republic of China. The main building, roofed with yellow glazed tiles and surrounded by corridors and pavilions, features the styles of ancient Chinese attics and traditional architecture. The building, with 21 exhibition halls in its 6 stories, covers an area of more than 18,000 square meters. The museum boasts an exhibition area of 6,660 square meters. There are a sculpture park covering an area of 3,000 square meters and a modern collection storeroom founded in 1995 covering an area of 4,100 square meters.
NAMOC integrates exhibition, collection, research, public education, international exchange, restoration of artworks and cultural and creative industries. It is the highest hall of fine arts in China and also a public cultural service platform. The robust development of NAMOC benefits greatly from the support of the central government and the direct leadership of the Ministry of Culture. The government has established a special collection fund, which laid a solid foundation for the museum's collection of art treasure. Quite a few collectors and artists donated their collections to the country out of their social responsibility and strong belief in "art serving the people", which contributes to rich collections of NAMOC.
The museum houses more than 110,000 pieces of various collections, most of which are representative works of different periods and great artworks of Chinese art masters from ancient times till today, constituting art development history since the beginning of modern China. Collections also include some ancient paintings and calligraphy works, foreign artistic works as well as plentiful folk art works. The museum collects works of many Chinese great artists such as Su Shi, Tang Yin, Xu Wei, Ren Bonian, Wu Changshuo, Huang Binhong, Qi Baishi, Xu Beihong, Lin Fengmian, Liu Haisu, Pan Tianshou, Jiang Zhaohe, Wu Zuoren, Li Keran, Dong Xiwen, Wu Guanzhong and Zhu Dequn; works of famous calligraphers such as Yu Youren, Gao Ershi, Sha Menghai and Qi Gong; works of sculptors such as Liu Kaiqu, Hua Tianyou, Wang Linyi, Zeng Zhushao, Xiao Chuanjiu, Zhang Chongren, Wang Zhaowen, Pan He, Liu Huanzhang, Wen Lou and Zhu Ming. The museum also collects works of great foreign artists such as Picasso, Salvador Dalí, Kaethe Kollwitz and Ansel Adams.
In order to meet the requirements of national cultural construction and development, NAMOC will build a new venue next to "Bird's Nest" in Beijing's Olympic Park, covering an area of 128,600 square meters. Xi Jinping, General Secretary of the Communist Party of China Central Committee, highly cares and pays attention to the construction of the new venue, which is one of the national key projects.
The current curator of NAMOC is Wu Weishan, and former curators include Liu Kaiqu, Yang Lizhou, Feng Yuan, and Fan Di'an. Under the leadership of the Ministry of Culture and curators, NAMOC is dedicated to showcasing the latest Chinese artistic achievements and the creation of international artists, promoting international artistic dialogue and exchange, and enhancing the cultural awareness and aesthetic level of the Chinese public. On the one hand, NAMOC provides Chinese artists with opportunities to display their works; many important exhibitions that have been loaded into the history of Chinese art are held here. On the other hand, NAMOC spares no effort in bringing in foreign art and maintains good relations with many famous international art museums.
Since its establishment, NAMOC has held thousands of various influential exhibitions, which not only reflect development and prosperity of Chinese art but also provide an important platform of artistic exchange between China and the world. In recent years, NAMOC has organized new series of exhibitions such as "Carrying forward the Chinese Spirit" Series Exhibition, "Collection Revitalization" Series Exhibition, Academic Invitations Series Exhibition, Donation and Collection Series Exhibition, International Exchange Series Exhibition and "Belt and Road" Special Exhibition. All these exhibitions have a broad and lasting social impact.
NAMOC shoulders the cultural responsibility of "promoting outstanding traditional culture, collecting all kinds of fine arts, strengthening international and domestic exchanges, facilitating contemporary artistic creation, building the peak of fine arts and benefiting public cultural services." Adhering to "Xi Jinping Thought on Socialism with Chinese Characteristics for a New Era", NAMOC will remain true to its original aspiration, keep its mission firmly in mind, and work tirelessly to realize the Chinese Dream of national rejuvenation.